Rail Building
Part 3: Three-Way Junctions
It's no good having fast trains and plans for a fancy network if trains get stuck at the junctions. This page will hopefully help you connect your trains well.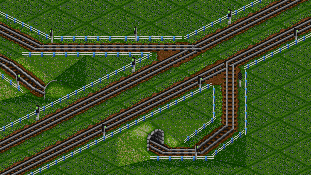 Line Merge
This junction is only good for lines where the trains only want to go one direction, from a raw material industry to a production industry or a final industry, for example from a Iron Ore Mine to a Steel Mill or from a Coal Mine to a Power Station. Note that a tunnel was used instead of a bridge. This is because tunnels have no maximum speed. Speed is everything so if you have to build a bridge, build the fastest one you can. (Bridge speeds can be modified with TTDAlter).
Pros:
Cheap and easy to build
Can handle two trains at a time
No crossovers - replaced with a tunnel
Cons:
Trains must slow down to climb a slope
Lines can not be accessed from all directions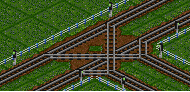 Basic Three-Way Junction
This type of junction is terrible for all networks with more than two trains. Avoid it at all costs.
Pros:
Cheap and easy to build
Trains don't have to slow down to climb a slope
Cons:
Can only handle one train at a time
Can quickly cause traffic jams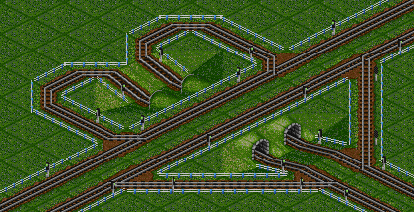 Half Cloverleaf
The half cloverleaf is, as its name suggests, half a cloverleaf. It can handle a reasonable amount of traffic, but there are better options.
Pros:
Can handle a large number of trains at a time
Traffic jams less likely
Cons:
Costs more to build
Trains must slow down to climb a slope (can be 'fixed' with TTDPatch)
Trains must turn left to turn right. This could lead to trains getting lost. (Can be fixed by using checkpoints with TTDPatch)
Trains exit the main line before leaving. This could cause traffic problems.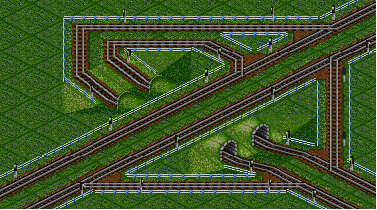 Modified Half Cloverleaf
This, in my opinion, is the best possible 3-way junction. It's best to make the distance between entrances and exits the length of your longest trains, plus two squares for signals. This way trains that are waiting at a red signal aren't preventing trains behind it from going down a different track. This is not shown in the picture to reduce download time. Also, it's best to expand it out to avoid the ninety degree bends that kill train speed.
Pros:
Can handle a large number of trains at a time
Traffic jams less likely
Exits from main line are before entrances, reducing the chance of traffic problems
Cons:
Costs more to build
Trains must slow down to climb a slope (can be fixed with TTDPatch)
Trains must turn left to turn right. This could lead to trains getting lost. (Can be fixed by using checkpoints with TTDPatch)