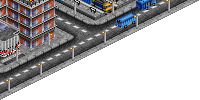 Links
There are many great Transport Tycoon sites out there - these are just some of them:
The Transport Tycoon Forums
The place to get help and information about Transport Tycoon, Chris Sawyer's Locomotion, TTDPatch, OpenTTD, and related games. Alternatively, stop by and just have a general chat. Currently home to over 900,000 posts and nearly 25,000 registered users as of January 2011!


OpenTTD
OpenTTD is an open source reconstruction of TTD, which contains many new features - some common to TTDPatch, some unique. OpenTTD is available on many different systems, including Windows, Mac OS X, Linux, OS/2 and others, and features a great online multiplayer system. Check it out!


TTDPatch
Home of TTDPatch, the Transport Tycoon Deluxe patch, which adds many new features and fixes several bugs in TTD. Highly recommended - you'll find many saved games in the TTD world rely on TTDPatch to work properly now.


GRFCrawler
Find new vehicles, stations, buildings, industries and more for TTDPatch and OpenTTD!


Chris Sawyer Software Development
Chris Sawyer's official web site.


The Transport Tycoon Semi-FAQ
Another site about TT, and a very good one it is as well. Contains plenty of information about TT and TTD. This is the definitive resource for any TT player.


The Transport Tycoon Terminal
A site featuring various graphics sets and saved games for TTDPatch and OpenTTD.


The TTDX Analysis Pages
A very nicely designed site with loads of content on what makes TTD the great game it is. (Formerly hosted on GeoCities - another mirror of the site can be found here.)


The Transport Tycoon Deluxe Pages
Paul van Eijden's TTD pages, with strategy guides, downloads, and more.


TTDX Railway Guide
A very comprehensive railway construction guide, including detailled information on the new TTDPatch and OpenTTD signalling features, plus guides for a number of new vehicle sets, including the DB Set XL.


The Church of Transport Tycoon
A rather amusing site with some TTD hints, tips, a Bible of Tycoon, and of course the Stupid AI gallery.


Cecilie's TT Hints
An older site with a load of hints, tips and information about Transport Tycoon.


wimb.net - Transport Tycoon
A site with a detailed walkthrough of a complete game of Transport Tycoon.


Zernebok Hosting
My web host - if you need hosting, give Zernebok a go! Excellent service with a more personal touch.


If you would like to have a site listed, please let me know.